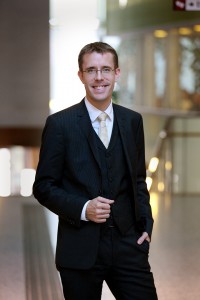 Download CV (approx. 500 words)
---
Oskar Ekberg was born in 1977 and grew up in Södertälje (Sweden) where he started playing the piano at the age of six. After studies with professor Mats Widlund at the School of Music in Gothenburg, he continued post-graduate studies at the Royal College of Music in Stockholm (KMH). In 2001 he was selected for the Postgraduate Soloist Diploma Programme at KMH. In 2003 he graduated and made his official debut with a performance of Prokofiev´s second piano concerto with the Swedish Radio Symphony Orchestra. This particular performance was transmitted live in Swedish radio, and also got very fine reviews in major newspapers.
Oskar has taken part in masterclasses held by Jiri Hlinka, Pascal Devoyon, Dimitri Bashkirov and Håkon Austbö, among others.
In 2000 he was soloist with the KMH Symphony Orchestra in Ravel's G major concerto, and has since then played several times with orchestras in Sweden, mainly focusing on the piano concertos of Mozart.
Oskar has been awarded scolarships by the Royal Academy of Music's, and was finalist in several national competitions. He placed second at the 2001 Ljungrenska Competition and, in 2002, obtained first prize at the Yamaha Competition. He was also a semi-finalist in the prestigious competition Solistpriset 2004.
In addition to his solo career Oskar dedicates considerable amount of time playing chamber music. He is part of the by Swedish reviewers highly acclaimed piano duo with Martin Sturfält. He has also performed extensively as a member of the former Lasja Piano Trio which has been coached by such eminent artists as Isaac Stern and the Trio di Trieste. Oskar has as well recorded many chamber music works for the Swedish Radio, including works by (for example) Brahms, Bernstein, Denisov, Debusssy, Messiaen, Saint Saens and Scriabin.
Oskar also performs regulary as a orchestral pianist in the leading Swedish orchestras and ensembles, such as the Royal Philharmonic Orchestra and the Swedish Radio Symhpony Orchestra.
Oskar has performed throughout the Nordic and the Baltic countries, as well as in Russia, The Netherlands, Switzerland, Italy and in France.
Lately Oskar has devoted a considerable amount of time to the French composer Olivier Messiaen, leading to complete performances of the pianoduo "Visions de l´Amen"and the massive piano cycle "Vingt Regards sur l´Enfant-Jésus".  Performances of chamber music work such as "Quatour Pour la Fin du Temps" also play an important part in Oskar´s work.
Oskar was also one of the main producers/artists of the Swedish Centenary Festival Messiaen 2008, which was held in Stockholm and gathered Swedish and international top artists, and was given extensive media coverage and was highly acclaimed throughout Europe.
Oskar´s interest in Swedish music has recently lead him to explore the keyboard music of Johan Helmich Roman (1694-1758,"the father of Swedish music"), in particulary the 12 keyboard suites. Oskar has performed the complete set in concerts, and in 2012 he made the world premiere recording on modern piano. Future project include the editorship of the keyboard music in the upcoming  The Complete J.H. Roman Edition.
Oskar also is in much demand of as a teacher and lecturer, and teaches piano as lector  at Ersta Sköndal University College since 2008.