Confession of a working concert pianist (updated 2015-08-20)
This is not working! I confess and am truly embarrased.
Up until recently I had the ambition to cram regular home page updates in english into my calendar, which so far have led only to complete failure and bad conscience.
So, dear NEWS-section of my home page, I think it's time now to utter the words….yes, I'm breaking up with you! There. I said it.
Hush hush… don't cry. Although we can't have this close personal relationship, we live in times of wonderful technology. So if you still want to find out what's happening wtih me, please visit the SWEDISH version of this page, but translated with google.
It probabaly will be kind of goofy, but at least will be somewhat regularly updated.
So, see you there, then?!
Yeah, great!
/Oskar
Concerts, nearby and abroad (updated 2013-10-13)
Far too long since I updated this english version of the webpage, but here we go with som updates about a couple of upcoming concerts this fall.
First though, my sincerest congratulations to young Swedish pianist Martin Malmgren, who recently won the Ljunggrenska Competition for Young Musicians in Gothenburg. The first prize of 100.000 SEK was very well deserved, and as a member of the prize jury I can affirm the jury's appreciation of his sensitive, beatuiful and intelligent playing.
As for the concerts of my own…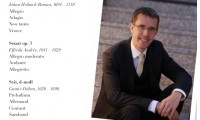 The  12th of November  I'm playing a recital in Södertälje, a town 40 km south of Stockholm. Södertälje host a new and very ambitious chamber music festival (Link in Swedish here), and I have been invited to play a programme consisting of Swedish music. I've chosen a couple of my "forgotten favourites", pieces that have been neglected by history but deserve to be re-discovered.
Very welcome!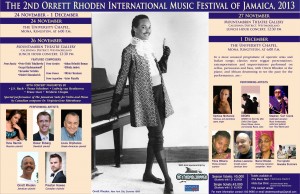 If you can't make it to Södertälje you may try to catch the programme a week later. The 24th and 26th of November nI'm playing most of the music again. This time a bit further away though, since I'm invited to Jamaica, approx. 8500 km(!) west of Stockholm. Circumstances has it that I'm invited to play in The 2nd Orrett Rhoden International Music Festival of Jamaica this year, and I'm looking forward to it a lot. Mr Orrett Rhoden is himself a Jamacian concert pianist, with debuts in both Royal Albert Hall and Carneige Hall, but are now once again situated in Jamaica, fighting for the knolwedge and presence of classical music in his country. I'm happy to be presenting some Swedish music there, all of it probably heard for the first time in West India!
Click at the picture for further details.
There is french music going through my mind as well… At the moment I'm once again climbing up my favourite K-2 of the 20th  century piano repertoire: Olivier Messiaen's Vingt Regards sur l'Enfant-Jésus 
Small tour with enormous piece coming up, early 2014:
January 5th, Mariestad
January 6th, Trollhättan
January 12th, Göteborg
February 6th, Sköndal
February 15th, Stjärnhov
Stay tune for further details, and possible a few more venues.
Along with this I'm continuing my piano teaching at Ersta Sköndal University College, along with playing orchestral piano in a couple of different productions, including interesting music by Allan Petterson, Unsuk Chin and Mattias Lysell.
Summing it up: a quite busy but very interresting fall this year! 🙂
Roman, Nörgård and all that jazz.
It has been a quite intense period.  Starting with the summer, which included most of it's intensity in playing with my children, working at my summer house and sitting or standing under umbrellas … in short everything that makes a real Swedish summer with the beloved family! 🙂
The autumn has brought on a variety of different things to play and do.
Recently completed tasks has been working with the EPTA Swedens 34th European Piano Teachers Association Conference in Stockholm (me being both a board member of Swedish EPTA, and a performer during concerts) and a jury member at one of Sweden's biggest competition for young musicians, The Ljunggren Competition. Both of them very demanding, but also very enjoyable indeed!
I have the fortunate opportunity to continue my orchestral playing, and had a nice experience lately with piano part of Szymanowski violin concerto (RSO, Harding, Tetzlaff) and another one while sitting in  with the RPO (Oramo, Dalayman) doing the Gösta Nystroem Sinfonia del Mare.
Upcoming pieces to play next month is Nörgårds 4th and 7th symphony, and Puccini's Il Tabarro.
This very well illustrates one of the benefits of playing in orchestra… the interesting music you get to know/play that you probably never would have otherwise!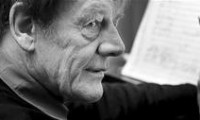 I'm also Playing a chambermusic recital in a copule of days, together with clarinetist Jonas Viklund, and friends. Quite a rare opportunity to do these kind of concerts nowadays, as of the struggling of most small concert arrangers.
A "dancing program" it is, and includes music  by Piazolla, Ravel and Shaw.
Great fun.
My work with the keyboard music of Johan Helmich Roman is a continuous one. Every now and then my record stirs some attention (here is a recent example: The ingenious and beautiful keyboard suites of Johan Helmich Roman  – HBDirect Classical), I keep playing them, and maybe above all at the moment: I'm preparing a new printed urtext edition and doing original research to go with it.
Looking forward to meet the publisher at the end of november to talk over some details. Really fascinating stuff. And, as you should know by now, brilliant music!
My teaching at the University College also is up and running at full speed. It turned out to be my biggest class ever this fall. Can't complain really, 11 young musicians wanting to learn more about piano playing… That's definitely a good thing.
(22/10/12)
Reviews
A couple of reviews of the CD …
"Ekberg does very well in highlighting the ethereal melodies and the charm of these unjustly forgotten pieces."
4/5, UNT .
Whole review (in Swedish) here.
"Oskar Ekberg's (…) playing is full of life, with concise touch and has a very focused  rhytmical drive."
 4/5, Nerikes Allehanda.
Whole review (in Swedish) here.
Jan-Erik Zandersson/Nya Upplagan writes in his CD column
"Oskar have, with some extraoridnary preparation, filled Roman's music with detailed shades and colours unreachable for the harpsichord, but without losing faithful respect for the composer's intentions (…)
and dubs the CD
"One of the most exciting Swedish records this year." 
(29/05/12)
---
Debut CD now available!
Following the truly enjoyable exeperience of playing my release concert (many thanks to many people that made it possible!), my CD is now for sale in record stores, and of course online .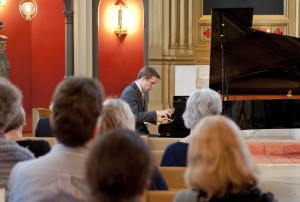 Not so few had found their way to Ersta Church, and I offered a program that included four of the twelve suites, and also quite detailed presentations from stage (which seems to have been very appreciated).
I also had the rare, but delightful, chance to sit in front of a small line of people waiting for me to sign their new CD's.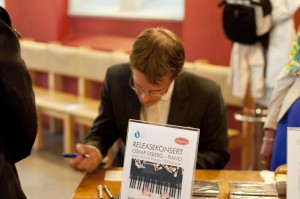 Other things to do in May as well:
Apart form continuing my research project about Johan Helmich Roman, and playing orchestral piano mentioned below, I'll be helping out with the television recordings of season 2 of Swedish version of BBC conducting-reality-show Maestro (by playing orchestral reductions during practice).
I did it season 1 as well, and it's usually great fun!
(11/05/12)
---
Release!
A date has been decided for my release concert for my 2-CD recording of the keyboard suites of Swedish baroque composer Johan Helmich Roman (world premiere recording on piano!).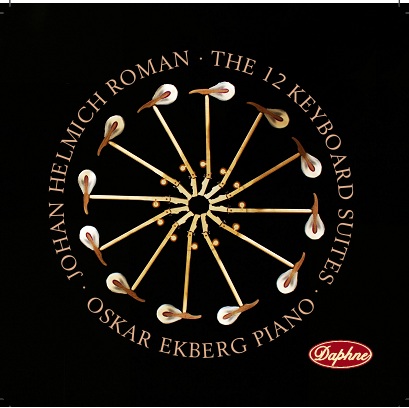 Welcome to Ersta Church May 9 at 6.00 pm for a concert with me playing music by J.H. Roman and perhaps some additional bonus music…
Admission free!

Stay around afterwards for a complimentary glass of wine and snacks (but please let me know if you wish to join the small party: info@oskarekberg.com).
Host of the evening is Ersta Sköndal University College in cooperation with Daphne Records.
(updated 11/04/12)
---
Symphonic tasks
A couple of small, but exciting, projects coming up this spring (with me playing  piano/celesta/organ in the orchestra):
*CD-recording with Tetzlaff, Harding and SRSO.
*Concert with SRSO playing Swedish contemporary composers.
*Last but not least the incomparable computer game concert Symphonic Fantasies in Konserthuset with RSPO.
(11/04/12)
---
University Researcher et al
I've received an additional grant from Ersta Sköndal University College for further studies of the manuscripts of Johan Helmich Roman's keyboard music. My research will be part-time during March-May.
I am participating together with Norrköping Symphony Orchestra on their concert February 26, and also have started working on a Schubert lied recital: Concert with Solveig Faringer on April 14.
(22/02/12)
---
On tour in Europe
I'm playing the celesta part in Stravinskys Firebird (complete 1910 version) in Royal Stockholm Philharmonic Orchestra, and joining them on their tour across Europe .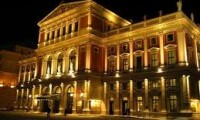 Concerts venues include Musikverein, Vienna, and Alte Oper, Frankfurt.
More about the tour can be found here.
(29/01/12)
---
Teaching
The start of this year's term of teaching at Ersta Sköndal University College.
(13/01/12)
---
Gala concert!
Gala concert in Berwaldhallen, Stockholm, with Swedish Radio Symphony Orchestra. Participated as orchestral pianist and accompanist to singer Elin Rombo.
(06/01/12)
---